Executive Director - Kay DeCuir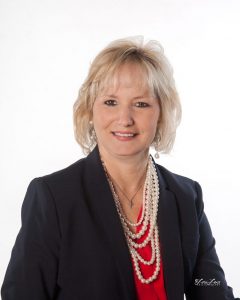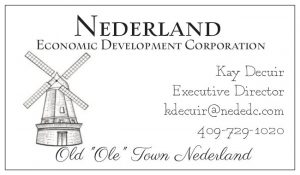 Memberships and Organizations
Graduate of Leadership Southeast Texas 2019
Nederland ISD School Board President 2015-2016
Nederland ISD School Board Vice-President 2014-2015, 2017-2018, 2018-2019, 2021-2023
Nederland ISD School Board Secretary 2013-2014
Nederland ISD School Board Member, 2011- present
Texas Association of School Boards, 2011- present
National Association of School Boards 2016-present
Southeast Texas Economic Development Foundation Board Member 2019- present
Southeast Texas Economic Development Foundation Vice Chair -2021
Regional Economic Development Initiative Chair 2016-2023
Nederland Education Foundation Board Member 2014-present
Nederland Rotary Club Board Member 2013
Nederland Rotary Club President Elect- 2021, 2023
Nederland Rotary Club Secretary, 2023
United Way of Mid and South Jefferson County Board Member, 2013-2020
Texas Real Estate Broker, 2009- present
Nederland Chamber of Commerce, Business, 2013-present
Nederland Chamber of Commerce, Economic Development Committee
Advisory Board Member of SMORE, Single Moms Overjoyed, Rejuvenated, and Empowered- 2011-2018
Management Development Advisory Committee Member, Lamar Institute of Technology, 2013-2018
Advisory Board Member, Lamar Institute of Technology, Business Development, 2013-2018
Advisory Board Member, Lamar Institute of Technology, Child Development, 2011-2013
Member of Texas Economic Development Council, 2013-present
Member of International Economic Development Council, 2013-present
Member of Texas Real Estate Commission, 2007- present
Member of National REALTORS Association, 2007-present
Member of Mid-County Board of REALTORS, 2007-present
Member of Beaumont Board of REALTORS, 2007- present
Women's Council of Realtors, 2011-present
First Baptist Church, 1983-present (serves on numerous Boards)
Kay DeCuir is the Executive Director of the Nederland Economic Development Corporation.  She enjoys spending time with her family and stays very busy volunteering and going to school to further her education.  Kay loves being a KK to her first grandchild Matthew.  A life-long resident of Nederland, Kay is married to Bruce DeCuir who has been employed with Nederland Independent School District for 40 years.  
Kay has two children.  Her daughter, Kasey Tanner-Vernon, works for Texas Children's Hospital/Clinic in Katy, Texas.  Her son, Dr. Kirby Tanner, is a Chiropractor with Neuromuscular Corporate Solutions in Southlake, Texas. Kay is the owner/broker of DeCuir Properties, LLC in Nederland and brings a vast knowledge of real estate experience to the Nederland EDC.  
Kay has worked more than 34 years in the field of Education.  She is the former Executive Director of the Shorkey Center in Beaumont, Texas.  Prior to leading the Shorkey Center, Kay worked at the University of Texas in Austin as an Administrator for Public School Initiatives.  
Graduate of University of Oklahoma, The Resilience Development Institute (2015)
Graduate of Community Development Institute Year 1 (2015)
Graduate of University of Oklahoma, Economic Development Institute (2014)
Graduate of Lamar University, Beaumont, Texas, Masters in Education (2009)
Graduate of Lamar University, Beaumont, Texas, B.S. Elementary Education and Generic Special Education K-12 (1985)
Tomball College, Texas Real Estate Broker License (2009)
Tomball College, Texas Real Estate License (2006)
Graduate of Nederland High School, Nederland, Texas (1981)