This seven day event, held the third week in March, features live entertainment, pageants, a parade and much more. The festival draws over 100,000 attendees each year.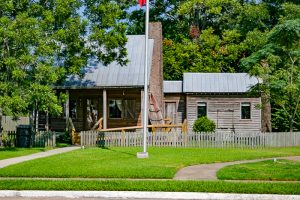 La Maison Acadienne
This replica of early Acadian homes in South Louisiana was built as a tribute to the many French settlers who came to this area.
Dutch Windmill Museum
The museum stands in the center of town and is open year round (for dates and hours of operation contact the Chamber office). Exhibits inside feature famous hometown country and western singer Tex Ritter and a gift shop with imported items from Holland.
Within the parks system that includes seven parks, you will find playground equipment, walking tracks, tennis and basketball courts, sand volleyball courts, baseball/softball fields, covered pavilions, and picnic tables.
*All parks will be closed from 10:00 PM until 5:00 AM each day of the week per Ordinance No. 2008-09 which City Council passed on May 5, 2008.
2301 Avenue H., Nederland, Texas 77627
Swimming pool, ponds with ducks, event nights such as Fourth of July Fireworks Display, Rotary Hooked on Fishing Not Drugs Fishing Event, Art in the Park, Monsters in the Park, Movie Nights and so much more.
800 Helena Avenue, Nederland, Texas 77627
Walking trail, covered pavilion, nature observation areas.  
Carl "Cropo" LeBlanc Park
900 Block Boston Avenue, Nederland, Texas 77627
Playground, baseball backstop, open space. 
400 Block S. 5th Street, Nederland, Texas 77627
Playground, open space. 
"Tex" Ritter Historical Park
1500 Boston Avenue, Nederland, Texas 77627
Historic French House and Windmill Museum, covered pavilion, and open space.